Finally online!
28th October, 2005
Weee! I just recieved my package from Clearwire, a new ISP delivering wireless internet access through Wimax, also known as 802.16. Literally 1 minute after getting the package I set up the cables and was surfing the net!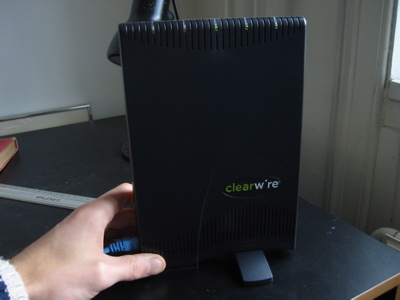 Initial impressions are very good. The setup was iMac-easy. 1: Connect power. 2: Connect ethernet. 3: There's no step three! :)
The connection seems quite responsive in it's present non-optimal placement:

17 packets transmitted, 17 packets received, 0% packet loss

round-trip min/avg/max/stddev = 42.381/69.727/180.672/34.122 ms


Obviously, I will pipe the signal through my
Airport Express
as soon as I find a good spot. For now I'm just happy to be online again :)
[UPDATE]
There are two important reasons for choosing this solution over traditional DSL. First it doesn't require an active phone line. This is a major point for me since I have no use for a land line [I have my cellular] and it costs almost the same as the DSL.
The second reason is that it's just damn cool to be online wirelessly by means of rather new and absolutely cool technology. Wimax is one step closer to the marvel internet access anywhere would be.
I went for the 512Kb downstream solution and I am so far pleased. As expected the connection is more susceptible to lag and packet loss that wired ones, but so far it's holding up very well. I'll be testing a Quake 3 session later.
« The most awesome keyboard in the world. Ever. – The stuff I use »