About jokke.dk
jokke.dk is the personal website of Joakim Nygård, a software architect, entrepeneur and Mac user living in Copenhagen, Denmark. Read more »
Search the Site
Yet Another Metal
11th September, 2005
So this new iTunes 5 brings a "streamlined design" according to Apple. I like the new look but I'm a little confused as to what they are thinking in terms of GUI standards. Have a look at this comparison: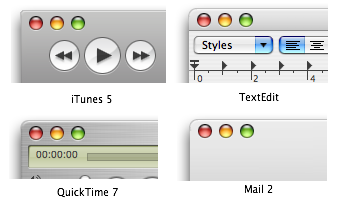 Mail and TextEdit are somewhat related in that the Mail window is a regular window with the title bar extended to include the toolbar. Since TextEdit is not using this form, I'm not sure what the rules are for doing this. My biggest problem is with iTunes 5 which has some sort of mix between regular and brushed windows. Also notice the corner is not anti-aliased in iTunes, probably because it's a Carbon app not Cocoa.
On top of this, every single Widget has its own windowtype. All of this adds to create an interface that is not as easily recognized and creates a mess on the screen. At least that is my opinion.